Hancock Whitney Center is a distinctive Class-A office building located in the heart of the New Orleans Central Business District. Standing 51-stories high, the property commands the downtown skyline and is widely regarded as one of the finest office towers in the state.
The property's prestigious location is within walking distance to several full-service hotels, new residential developments, shopping, arts, music, dining and the daily business of downtown New Orleans. Developed in 1984, the entry lobby features high-end finishes such as polished granite flooring and metal ceilings and is serviced by 18 passenger elevators.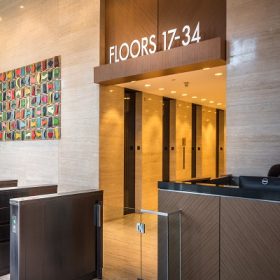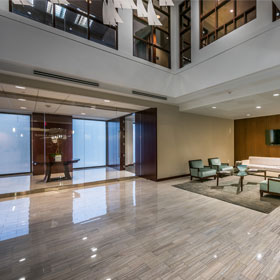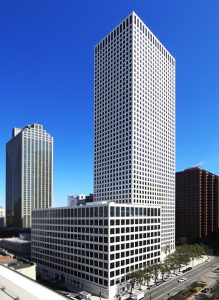 The building includes a seven-level parking garage and a four-level annex garage for a total of 982 parking spaces, providing one of the best parking ratios in the city.
Hancock Whitney Center, located at 701 Poydras Street in the Central Business District of New Orleans, Louisiana, is a 51-story, 697 feet (212 m)-tall skyscraper designed in the international style by Skidmore, Owings and Merrill. The building is primarily used for leaseable office space, with some retail space on the ground level. The design of the building is very similar to Houston's One Shell Plaza, also built by Skidmore, Owings and Merrill. The property is owned and managed by Hertz Investment Group. Occupancy is 95%.
Hancock Whitney Center was built using a double tube system, with a steel core and a concrete perimeter and opened for business in 1972. The exterior of the building is clad in Italian travertine (limestone) and bronze glass. There has been concern over the years regarding the limestone's integrity during severe weather such as tropical systems. Fortunately, these fears did not play out during Hurricane Katrina in August 2005 and the building weathered the storm with minimal damage, such as blown out windows and rain damage. The building reopened to tenants in December 2005.
When completed in 1972, Hancock Whitney Center was the tallest building in the Southeastern United States, surpassing the Wachovia Bank of Georgia building in Atlanta. It held the title until 1976, when the Westin Peachtree Plaza in Atlanta surpassed it. It was the first southern skyscraper to surpass the 200 meter mark.
Total Square Feet: 1,257,275 | Stories: 51 | Building Type: Class-A Office